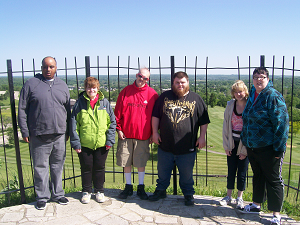 Picture this.  It's been a long, hard workweek and Friday has finally come around.  We've all been there, right?  What are you going to do?  For most of us, there are a variety of ways to relax, unwind, and spend some time making memories with family and friends in order to put work on the back-burner for awhile.  However, even though they are out there working right beside us to earn a paycheck throughout the week, many individuals with disabilities are not afforded the same opportunities after clocking out as you and I.
For individuals with disabilities, living an independent lifestyle is an uphill battle in and of itself.  However, history has shown that there isn't much that individuals "CAN'T" accomplish when backed by the human spirit of determination.  Today, organizations such as ours, partnering with local government agencies, families, and advocates, have made great strides in making opportunities available for individuals with disabilities to live independent and fulfilling lives.  As you probably already know, individuals with disabilities can earn an education, work to earn a paycheck, and have a place of their own out in the community.  But, what about the downtime?  What about that time in between to spend time with family and friends, that time to forget about work for a little while, that time that keeps us all sane?  Over time it occurred to us that quite a few of our friends in our local D/D community were falling between the cracks and missing out on a lot of these good times.
Many are fortunate enough to have good friends and family nearby to spend time with on the weekends.  A lot of others benefit from independent and H/PC providers like ours who come in on the weekends and do a variety of fun activities with them if their loved ones are busy.  Still, there are some in the D/D community who, after clocking out on Friday, come home to an empty apartment and spend the weekend alone, watching television, or playing video games.  With Adult Day Services in the area having been such a positive addition to the community, we had to ask ourselves, "Why is it that these services are only offered throughout the week?"
For that very reason, Self-Reliance, Inc. is now the first and only provider in the area to offer Adult Day Services over the weekend.  We want to give individuals in our community the opportunity to come out on weekends and have a great time with a good group of friends.  As of this writing, we have only been providing weekend services for a little over a month and have already been to the Dayton Air Show, the Yellow Springs Street Fair, the Dayton City Folk Festival, and a number of other local attractions.  That's what our weekend services are all about…getting out and having a good time!  We have a wide array of current openings.  So, if you or someone you know might be interested in joining our group, just fill out the form below or call us at (937) 568-3146 to get the conversation started!  We're looking forward to hearing from you!

Saturday and/or Sunday Adult Day Support

Non-medical Transportation Available Both Days

Numerous Community Outings & Exploration

Immediate Openings Available